Many people have preferred to workout at home vs at the gym, from casual fitness enthusiasts to personal trainers coaching their clients from home studios. The pandemic encouraged many people to reconsider how they work out and maintain their fitness during lockdowns, as well as wanting to avoid crowds. It may not have been on your radar before, but having a home gym setup may very well be the perfect choice for convenient fitness. Not only can you customise your home gym to perfectly suit your requirements, you're also less likely to procrastinate when your gym is only a few metres away. Whether you're looking to save money on a gym membership or you simply want more control over your fitness routine, building a home gym can be a great solution. Here are a few things to consider as you build your perfect home gym.
How Much Space Is Needed For A Home Gym?
How much space do you have to work with? Do you have a garage that you don't use for the car? Do you have a spare room that's slowly being taken over by laundry to be folded? Even a corner of your lounge-room or bedroom can be transformed into a safe and functional space for working out at home. It really depends on how simple or elaborate you're envisioning your home gym to be.
If minimalism is more your vibe, look for compact home gym equipment that can be stored away when not in use, such as skipping ropes and foldable exercise mats that can be easily stored under the bed.
If you're a resistance training junkie, even if space is limited, you can still achieve those gains while working out at home. For strength training, resistance bands are essential. Add an adjustable commercial bench, a barbell and a couple of differently weighted plates , and you will easily be able to perform a variety of push/pull exercises without taking up a lot of space. If you have the option to wall mount equipment, our Wall Mounted Chin-Up Bar won't affect your floor space, and give you the option of another station to perform bodyweight resistance training. If you do have room for a more elaborate setup, consider investing in a plate loaded squat machine, so you can also get further use from your bumper plates.
Be sure to check the assembled footprint of the equipment you're looking to purchase to ensure you're making the most of your space and make sure you consider equipment storage solutions to keep your home gym safe and functional.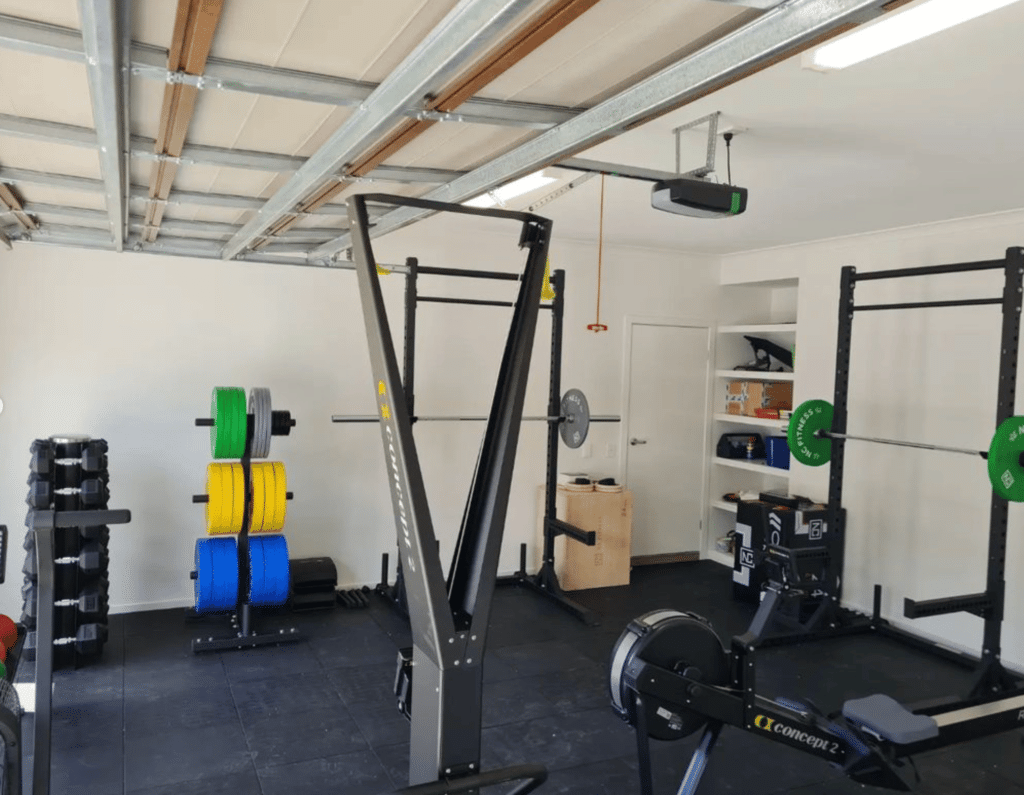 How Much Does it Cost to Set up a Home Gym?
With a little planning and some strategic shopping, you can build the perfect home gym on any budget. You can create a complete setup with a small amount of equipment and very little effort. If you want to keep your costs down, consider getting a good quality yoga mat that can be rolled up, a mid-range weighted kettlebell and a couple of small dumbbells. A full body warm-up, workout and cooldown is achievable with a small amount of equipment.
What Equipment Do I Need for a Home Gym?
To make the most out of your home gym, you need to consider how you prefer to workout and what equipment you typically gravitate towards when you're in the gym. If you tend to prefer cardio, then there's no need to find space for a Functional Trainer machine. You may prefer to make room for a Commercial Spin Bike or a Rowing Machine. Both of these machines have a reasonably small footprint and would be easy to set up in your lounge room, allowing you to watch your favourite shows while you workout instead of whatever channel the TV at the gym is stuck on.
If you're building your gym over a concreted surface, we have a range of flooring options to suit your setup. Our rubber stall mats are best used either in a machine like our M-Series Squat Rack Combo Functional Trainer, or as a dedicated space for performing barbell and plate exercises. The stall mat offers a supportive surface to take the strain off your joints and provide stability when performing heavy lifts. If you're wanting to cover a larger area, our rubber tiles offer a non-slip, non-porous surface and reduce impact, and can be arranged to accommodate the rubber stall mats seamlessly.
If you have a minimum 6m long space available, you can install our commercial-grade synthetic turf mats for sprints or pushing weight sleds.
Is Building A Home Gym Worth It?
The most attractive benefit of having a home gym is the convenience. When you don't have far to go or the possibility of having to compete for your favourite machine at the gym, you're far more likely to put your gear on and complete a great workout. Having a home gym diminishes any chance of procrastination, and may be more likely to work harder without having to worry if anyone's looking at your or waiting for you to finish your set.