Pro Grade and Powder Coat Kettlebells
Kettlebells are an ancient exercise tool that have been adapted for modern-day living. They're multi-functional — they can help you lose weight, tone up, improve your fitness and flexibility and increase your strength. Kettlebell training is fun, fast and scientifically proven.
All of our kettlebells are commercial quality and are used in gyms and homes around Australia. They're available in a variety of finishes and weights from 4-32 kilograms to fit your workout needs.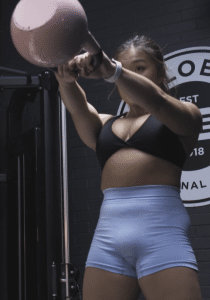 We also offer gym chalk, complete gym packages and sturdy storage racks that can hold ten competition kettlebells, so you can proudly and conveniently display your entire collection.
NC Fitness – the Trusted Brand for Kettlebells in Australia.
Welcome to NC Fitness Gear, Australia's leading supplier of kettlebells and other gym equipment and accessories. If you are shopping for a home gym or a larger commercial gym, we've got you covered. We believe in our products so much, that everything comes with a 14-day money-back guarantee.
Boasting a comprehensive selection of kettlebells ranging from 4kg up to 32kg, we have products to suit all ages and all abilities.
What can Kettlebells be used for?
The versatility of kettlebells makes them the perfect tool to help you meet a variety of fitness goals. They are regularly used to help with:
Weight loss
Strength training
Muscle toning
Improving coordination
Bettering flexibility
Cardio training
A multifunctional piece of equipment, kettlebells are perfect for all workouts; whether you want to train your whole body or prefer to isolate muscle groups. Available in a selection of different weights; looking good and feeling good is easy with kettlebells at your fingertips.
Kettlebells Enhance Every Home Gym, Studio Gym and Fitness Space
When buying Australian kettlebells, few shops compare to NC Fitness Gear. We hand-select the best quality products to ensure you get the most out of your training. Choose from our Pro Grade competition style kettlebells, our Powder Coat cast iron kettlebells or treat your fitness space to a complete package comprising of a rack and weights combo. We even stock storage, to help keep your gym safe and look clean.
Our kettlebells are sleek, smart and all-uniform and will add professionalism to your fitness space. The colour-coordinated design ensures that you can quickly and easily select the weight you desire; leaving more time to train.
Once you have ordered, we ensure that there is no delay in getting your products. All of our items are shipped the very same day where possible and then delivered with the fastest company available. Quality equipment, fast delivery and top customer service throughout.
Shop for the Total Package at NC Fitness Gear
The team here at NC Fitness Gear are fitness experts. We know what it takes to progress to the next level and provide a selection of the highest-quality products that will take you there. Bringing you a comprehensive range of kettlebells, hand chalk and storage options, we are a one-stop-shop for all of your fitness needs.
If you are starting small with single kettlebells, looking to expand your collection or adding equipment to your studio gym, we always have products to suit. With storage options that hold other equipment including dumbbells, weight plates and medicine balls, it is easy to keep your space tidy as your collection grows larger.
Check out the range we have for sale online, ready for fast delivery across Australia. You can also visit us at our showroom in Hallam and try our gym equipment before you buy.