After all the drama over the last two years, at some point, we've all asked ourselves whether or not working out online is as good as going to the gym. It can be hard to find time to go to the gym; between work, taking care of the kids, and all the other things on our plate, it's tough to make it to the gym more than once or twice a week. In addition to time management, whether or not your gym is taking its hygiene and sanitation seriously can also be a factor. In this post, we'll break down the pros and cons of online fitness and training so that you can make the best decision for your lifestyle.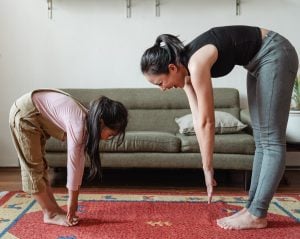 What are the benefits of working out at home?
There are many benefits to working out at home with online fitness videos. You don't have to deal with the crowds at the gym, you can work out in your pyjamas, and you can pause and rewind the video if you need to. However, there are also some downsides to online fitness videos. For example, when you're working out at home by yourself, it can be easy to get distracted and give up halfway through your workout and stop the video midway through. Working out at home may require more discipline to stay engaged and finish what you started.
Whether or not online fitness videos are right for you will depend on your own personal preferences. If you're someone who enjoys working out in a group setting, then online fitness videos might not be for you. One of the best things about going to the gym is the sense of community and camaraderie that comes with it.  Not to mention trainers and gym bros keeping you accountable. However, if you're someone who is motivated by being alone, then online fitness videos might be a great option for you.
When it comes to online fitness videos, there are literally thousands of options to choose from. You can find videos on YouTube or pay for subscriptions to apps targeted to your goals, for example, Couch to 5K. The key is to find a video that is tailored to your fitness level and interests. For example, if you're a beginner, you might want to look for workout videos that have detailed instructions and are easy to follow. On the other hand, if you're more advanced, you might want to seek out videos that are more challenging and will help you push your boundaries. One of the great things about online fitness videos is that you can pause and rewind as needed. If you're struggling with a particular move or exercise, you can always hit pause and go back to review the instructions. This is something that you can't do at the gym! So whether you're looking for a challenging cross-training workout or a simple Pilates routine, there's a video to suit everyone.
Overall, online fitness videos are a great
way to get a workout
without having to leave your house. They're convenient, and affordable, and there are options for everyone – no matter what your fitness level may be. We offer a huge range of equipment to help take your
home workouts
to the next level. Whether it's
kettlebells
or full home gym fit-outs, having dedicated workout gear can help keep you motivated and on track.