Olympic Barbells, Training Barbells and Barbell Accessories
High-quality Olympic barbells are a key ingredient for serious weightlifting gains. Our range of barbells are made tough, so they won't fail on you when you're pushing yourself to new levels. They come in a variety of sizes, weights and ratings — whether you're a beginner or seasoned weightlifter, we have the bar you're after and you can see NC Fitness Barbells all across Australia, Melbourne and Sydney.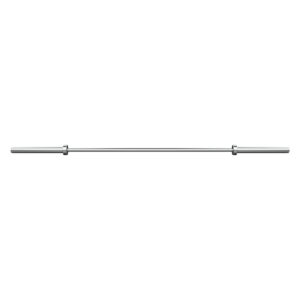 We stock versatile barbells, such as Olympic Swiss bars and trap bars, that allow multiple grip choices so you can target a variety of body parts with the same piece of equipment. They're an excellent choice for adding something new to your training program.
Our barbell jacks make it easy to load up a barbell with weight plates, and you can secure those plates for your workout with a set of Olympic locking collars from our range.
You can browse and buy our barbells, weight plates and accessories online. We ship promptly across Australia. If you're in Melbourne, you can test them out at the NC Fitness showroom.
About Barbells
Barbells are exercise equipment used in weight training, body-building, weightlifting and powerlifting. They are a long bar, usually with weights attached at each end, but they can also be used without weights.
Barbells have a range in length from 1.2 metres (4 ft) to above 2.4 metres (8 ft), although bars longer than 2.2 metres (7.2 ft) are used primarily by powerlifters and are not usually seen in most gyms.
The central portion of the bar varies in diameter. Weight plates slide onto the outer portions of the bar to increase or decrease the desired total weight. Locking Collars are used to stop plates from moving unevenly so that the lifter does not experience an uneven force.
The barbell is the longer version of the dumbbell that is used for free weight training and competitive sports, such as powerlifting, Olympic weight lifting, and CrossFit. Many exercises can be done using the barbell, such as bicep curl, bench press, Olympic weightlifting, overhead press, deadlift, and squat.
Olympic barbells are usually an estimated weight of 20 kilograms (44 lb). Many fitness categories use the barbell for different reasons, for example, powerlifters use the barbell to perform compound exercise movements.
If you would like to checkout other weights of  NC Fitness Barbells, please click here.