Bumper plates are all different.
When sizing up a set of bumper plates, there are three key factors to consider:
Materials
Construction 
Function  
On most websites, gym equipment can all look quite similar. But what you really want to know is how well it'll work and how it'll look after six months or six years of usage. With so many various sorts of bumper plates flooding the market, comparing them online may be difficult. To assist you in determining which bumpers are appropriate for you, let's take a look at the three elements described above: materials, construction, and function.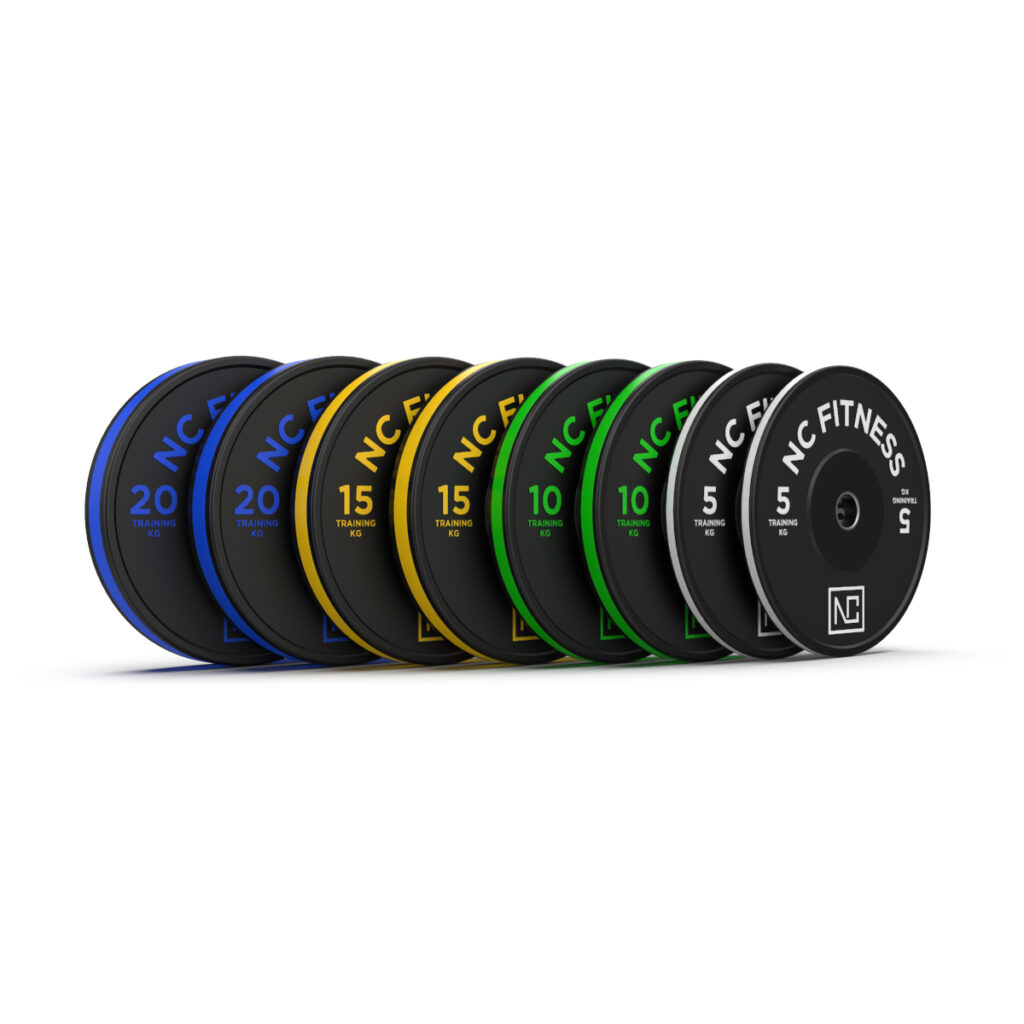 Materials
For practical fitness training, Vulcanized, virgin rubber bumper plates are the way to go. That's where we'll begin with Virgin rubber bumper plates for functional fitness training.
The colour, quality, and type of the bumper plates are determined by the type of rubber they're made from. Fresh rubber that hasn't been recycled or utilized before is used to make Rubber Bumper Plates. As a result, there are no polymers, adhesives, or bonds in the base material during production.
Clean, high-quality plates begin with a clean source. The lower grade plates will start out as a mélange of industrial chemicals from who knows where. However, don't mix up this information with recycled rubber plate make-up, which we'll discuss in a minute. You want virgin rubber plates if you're searching for high-quality everyday plates.
The second piece of the puzzle is vulcanised rubber, which plays a critical role in high-quality plates. Vulcanized rubber has been chemically bonded by the addition of sulfur, which improves the durability of the chemical chains in the rubber. Consider all of the tough rubber that you encounter on a daily basis, such as car tyres, shoe soles, hoses, and so on. The best sort of bumper plate is made of vulcanised rubber, which is what you want in a bumper plate.
What are the benefits of Recycled Rubber Bumper Plates?
Recycled rubber bumper plates have their place. There are a few advantages to consider: They are ecologically beneficial, and you can frequently use recycled rubber plates for outdoor activities. Recycled Rubber Bumper Plates are one of the most durable plates available. Because of the recycled rubber shavings and polymer bonding chemicals, they are typically quite dense and have a very low bounce. To guarantee that the polymer chains link and the connection holds, these materials are combined and pressed for a longer period than most bumpers.
Another point on recyclable rubber bumpers – These materials usually result in damper or quieter-sounding bumper plates. So, if you're training in an area where the noise of falling bumper plates bothers you and your neighbours, Recycled Rubber Bumper Plates may be what you're looking for.
Bumper Plates for Training and Competition
If you want the best materials, then Training Plates and Competition Bumper Plates are what you're looking for. You're receiving the greatest quality Vulcanized Virgin Rubber, which is produced to IWF and IPF standards. If you're in this business, it's competitive at the top, so buying training or competition plates from a respected brand is your best bet. One thing to be wary of, however. Over time, the large steel collars of top plates are believed to loosen up. When you hear the plates begin to rattle, check the screws every few weeks or so.
Alternatively, search for plates with rubber grommets built into the screws to keep them from coming loose. You'll appreciate the following feature of Again Faster Bumper plates.
Construction
This is something we've previously addressed in the materials area, so there's no need to go into detail. The greatest indicator of excellence these days is social proof. If a brand has good coaches, gyms, and athletes who have been supporting them for a long time, you can be certain that you'll receive a high-quality set of bumper plates.
If a company has been in the functional fitness industry for ten years or more and is yet one of the sector leaders, you can be sure that they are making decent gear. They have given excellent equipment to the market and community, which has led to long-term client loyalty to keep them afloat.
What is the purpose of your bumper plates?
An athlete training for the Olympics and a group of pals working out in the garage are examples of the two ends. The Olympic athlete will require Training Plates or Competition Plates, whereas the group of friends would be happy with Virgin Rubber Bumper Plates or Crumb Rubber Bumper Plates.
The Competition and Training plates are produced to exact international norms. Imagine if a weightlifter breaks the world record lift only to learn that the plates and bar weren't made according to precise standards, thus revealing that it was half a kilogram less than the previous record. That would be a letdown. It doesn't matter if you're in the 5:30 class or just performing some clean and jerks with your buddies.
There's no need to settle for less if you're buying bumper plates for your gym or simply want the best equipment feasible. You may step up to pro-level plates whether you're purchasing them for your gym or just because you like them.
The result is that you'll have a more dedicated clientele who are prepared to pay greater membership costs than your competitors, thanks to the higher level of service and equipment you provide. If you choose premium plates at home, you'll be stuck with them for the rest of your life! So when you're still using them in 20 years, it'll be easy to justify the expense.
What kind of guarantee are you looking for?
When it comes to bumper plate longevity, there are a few things to think about. Are you more concerned with low upfront costs or long-term service and security? There's also the issue of warranties. What is more important to you: superior pricing on the front end or long-term service and security guaranteed by a lifetime warranty?
Most entry-level and premium plates come with a 6 – 12-month warranty, but not all do. The majority of top-rated plates come with a lifetime guarantee. For most people, paying for superior level plates upfront may be difficult to justify, but if something goes wrong with any of the equipment later, it would be handy to obtain a replacement product without being asked to pay several hundred dollars to replace the equipment. NC Fitness offer a 14 Day Guarantee on all products.